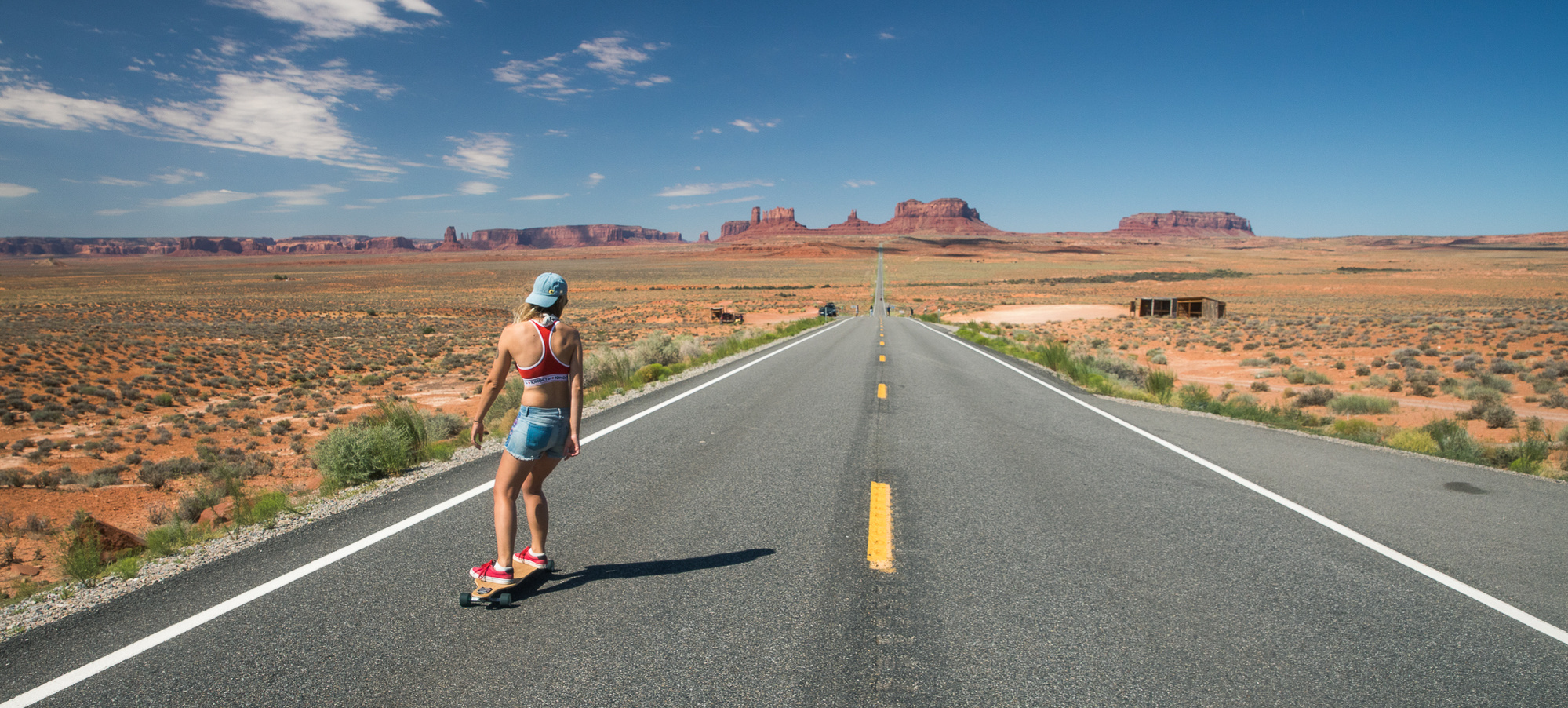 With a major sense of reluctance and frequently turning back to look over the shoulder to quickly disappearing Canyonlands, we headed South towards the big and mighty Grand Canyon.
The town of Mexican Hat appeared in the itinerary and we absolutely needed to check it out.
In the best tradition of Darjack we picked a random spot to stop at and have lunch. This time we got lucky – the picnic area right next to San Juan river was beautiful, and the timing was perfect. Gentle low sun painted scenery in pretty warm tones. Rio San Juan seemed peaceful, despite its fast stream.
Mexican Hat
The reason for the name "Mexican Hat" – mind you, not Sombrero, apparently that was stretching the imagination of the founders way too much – comes from the large rock balancing on a flat plate that's located near the town. The whole composition resembles an upside-down sombrero.
To be honest, we went there more for the laughs and didn't expect much, but it turned out to be pretty cool.
It was here that we pushed Ёжmobile almost to the edge of its off-road ability. Dispersed campsites are quite hard to find in the dark, and this was no exception. A rocky road, very steep in numerous places, led us into inky blackness. We reached a point that was so steep we dared not continue, and luckily there was a flat rock plateau to sleep on.
That night we decided to not set up our tent, and instead slept under the stars. The night was warm, clear and quiet. Headlights off and eyes adjusted, we realized we were parked right at the foot of the Mexican Hat itself. For a brief moment we got lightly rained on, but then the night settled and I carried through my first attempts in astrophotography.
Monument Valley
Our path continued South through legendary and dreamlike Monument Valley – the backdrop of countless Westerns. It was also the subject of my former bedroom poster that pretty much summarized the concept of adventure for me: an endless straight road leading an eye towards whimsical rock formations on the horizon, and an old VW bus driving down the hill, chasing the magical radiant sunset…
This time however, the vibe was a little different, but no less magical!
Page
Next morning we continued South and soon turned West towards the town of Page in Arizona.
It was an interesting place. Located near the Northern border of Arizona, right off highway 89, it is a town you can't avoid passing when traveling East to West or vice versa. Perhaps that's how a small, highly industrial town has acquired a sticky tourism flavor.
Tour agencies offer their assistance in visiting natural places in the area, such as Antelope Canyon and Buckskin Gulch, for hefty fees.
For instance, a 2-hour tour to famous and picturesque Upper Antelope Canyon had a price tag of $150 per person. Oh, you wanted to see Lower Antelope Canyon as well? $40 extra. To sum up, you face a ~$200 fee per person for a 1/2 day experience, where a guide rushes you through the slot canyon with a herd of fellow explorers.
In comparison, the annual pass for ALL National Parks in the US costs $80. How does it work? A 5-minute Google research gave an answer: Native American Navajo tribe owns the land and makes a nice business off it by denying anyone independent entry and making visitors hire their certified guides. I suppose when Rome invades you, you start doing like they do?
In the meantime, a gigantic 710ft (220m) Glen Canyon Dam sifts through Colorado river, trapping 90 million tons of muddy sediment annually (this equals to ~30,000 dump truck loads per day) and disrupting ecology of Colorado river downstream. Enormous lake Powell nearby is nothing less than gross and dangerous artificial reservoir, harboring invasive species.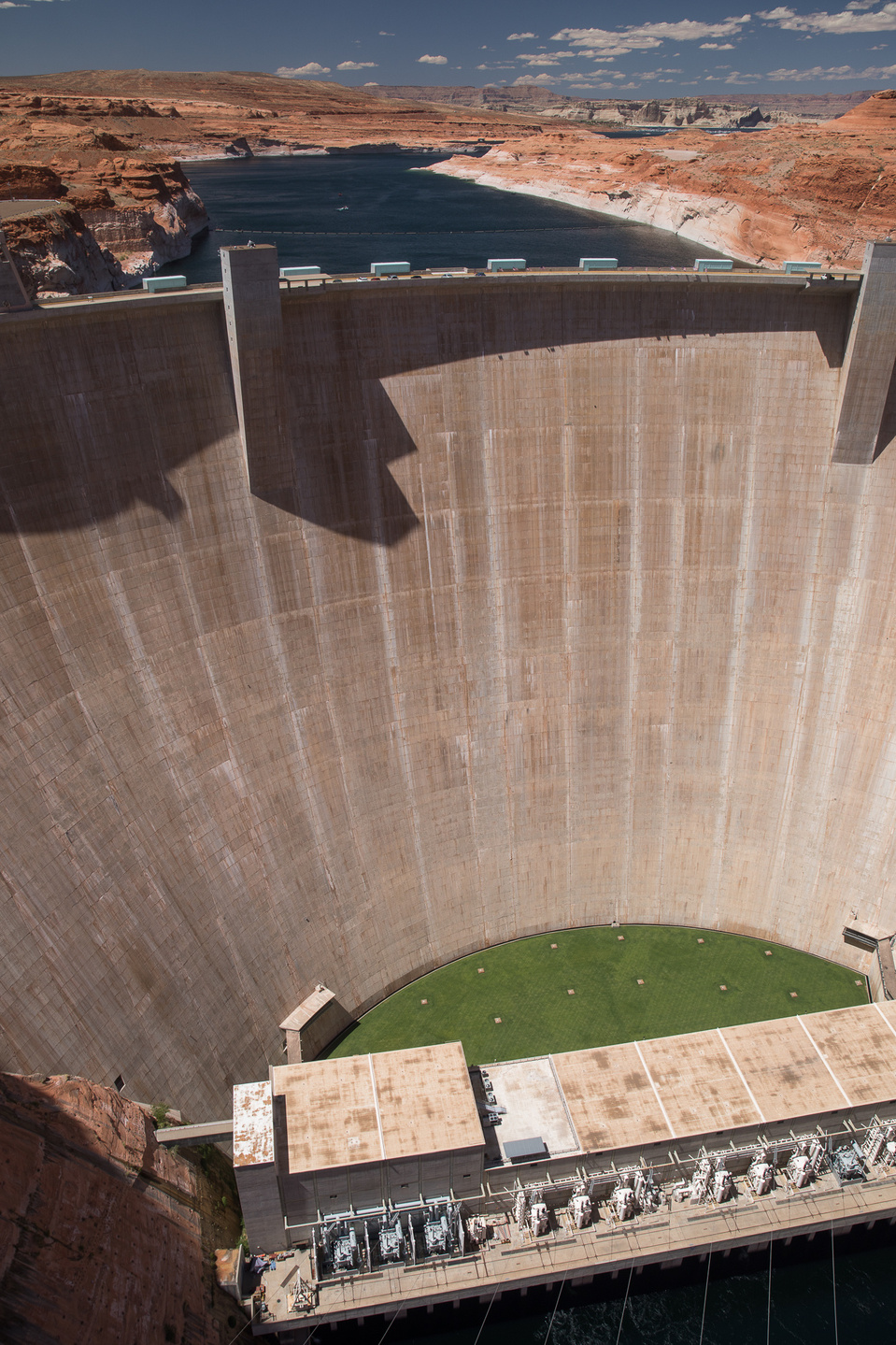 Page is a tribute to and byproduct of humanity's insatiable desire to take advantage of any natural resources in reach until they are fully depleted; and all that is left is an eternal lifeless desert.
However, let's not finish on a dark page with Page. We bailed from the Antelope Canyon tours, we bailed from the damn Dam, and went to Horseshoe Bend.
Here the Colorado river makes a dramatic 360º turn and any words become unnecessary, dissolving in warm sunset air.
NEXT: BRYCE CANYON & ZION NATIONAL PARKS, DIXIE NATIONAL FOREST

JUMP TO THE ROADTRIP OVERVIEW & MAP